Racing Into Western Dressage
An ex-racehorse finds a home in a different discipline.
By Holly Clanahan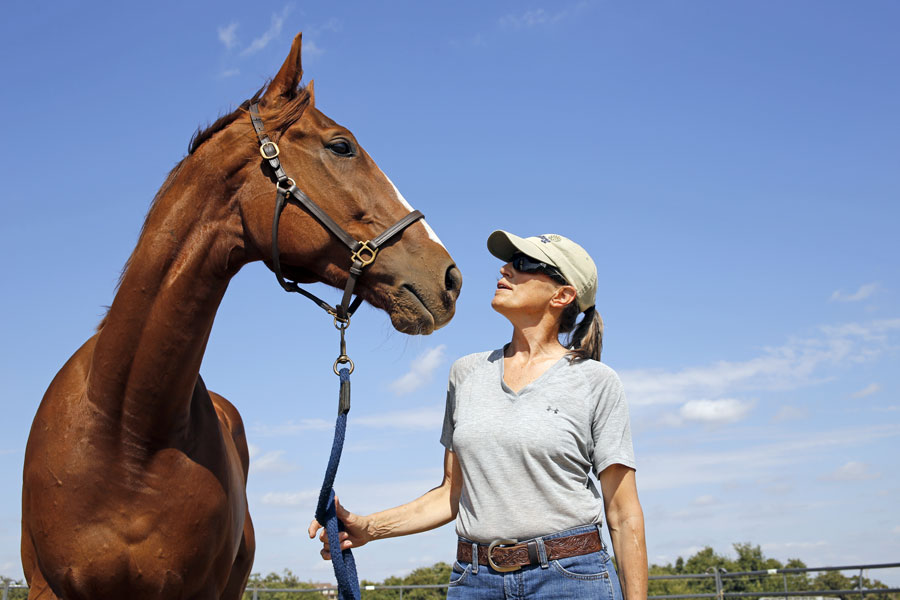 Once upon a time, the 7-year-old gelding Amodei was bursting out of starting gates and sprinting to wins over 5/8 of a mile on the track. He ran 19 races and won $70,000 before his connections decided that his heart was no longer in racing.
Now, the chestnut Thoroughbred nicknamed "Hawkeye" is coming down centerline, loping 20-meter circles and extending his jog as he carried owner Holly Zecchin to their first Western Dressage World Championship Show.
"He has been great," Holly, of Metamora, Michigan, said as she prepared to take him into two Level 1 tests and four Level 2 tests at the Lazy E Arena in Guthrie, Oklahoma. The show ran Sept. 29-Oct. 3.
But it took a little adjusting to get Hawkeye on a good track. Holly, who trains horses and gives riding lessons, works with a lot of off-the-track Thoroughbreds, and she's skilled at finding ones that have talents for second careers once they retire from racing. As she started riding Hawkeye, she said she "very quickly realized he had a lot of trouble with a bit. I'm thinking he must have had some sort of injury in his past. I don't know if it's related to racing or not, but he just is not comfortable in a bit."
Holly rides a lot of horses in a bitless bridle, and that setup made Hawkeye much happier. But there was a problem: She knew that traditional dressage does not allow for the use of bitless bridles. They are, however, allowed in western dressage. And as a bonus, western dressage rewards nicely balanced horses, not necessarily ones with the most extravagant gaits, so Holly felt Hawkeye would thrive in this discipline.
"That's why I really love western dressage," she said. "You sort of find the balance of this horse, whatever his conformation, whatever his gaits are, you find 'over the back' and 'through' and the balance of this horse, without trying to manufacture something that he really isn't."
Improving balance has been key for Hawkeye, who stands over 17 hands and has extremely long legs. He tended to travel on his forehand at the lope, and Holly has had to convince him to accept some direction in that area.
"He tries very hard," she said. And "he's always very focused."
Although Holly resells a lot of horses, she has no plans for Hawkeye to go anywhere. "I have trained a lot of horses, and this one is definitely my horse," she said. "He's a character. This one is mine."
And so, it's nice to have found a competitive home that suits both of them.
"It was a good point in my career to come on this horse and say, 'He's really special, he's really a beautiful mover, he has a wonderful work ethic, and I think I can get him to do about anything I want. I should do something that he's actually comfortable with and happy to do,'" Holly said. "That is what sold me on western dressage. And now I have some students going, 'Well … I may try this!'"
Share this post: