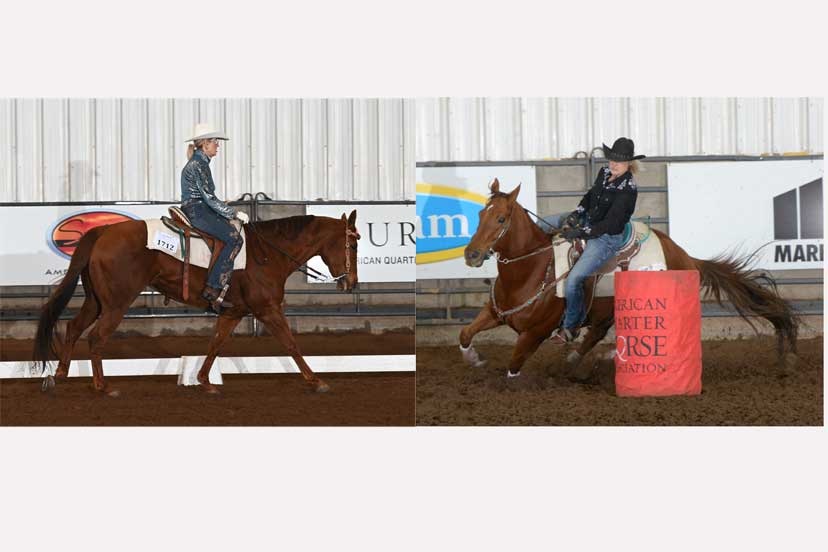 By Andrea Caudill
The versatility of the American Quarter Horse is certainly a bragging point for the breed – the horse that is willing and able to do whatever task asked of it. While that is quite common, it is rare when performed on the breed's biggest stage, a place where specialists typically have the advantage. But at the 2020 Farnam AQHA and Adequan® World Championship Shows, Colorado resident Renee Anderson and her mare, Hi Risk, were successful in two wildly different events: The duo placed ninth in the Select barrel racing and, a few days later, were finalists in the brand-new western dressage stakes class.
"I want barrel horses that do things other than just go fast in the arena," Renee says. "I want an all-around horse."
Another horse, Well Al Be and owner/rider Rachel Bitsko of Irwin, Pennsylvania, also proved versatile in English events, as they were third in amateur jumping and second in the dressage stakes class.
Renee got her first horse at age 11. She'd worked a babysitting job for two years, faithfully collecting and saving her 50-cents-per-hour wages until she presented her dad with the grand total of $250 and he agreed to fulfil his end of their bargain.
"We weren't horse people, we lived in the suburbs of Colorado Springs, (Colorado), growing up," Renee remembers with a smile. "But my dad promised me if I got the money, he'd buy me a horse."
Her teenage years were spent learning gymkhana events and just enjoying the fruits of her labor. Her passion for horses has continued throughout her life. As she entered her adult years, she continued riding and showing. In 2005, she got Azure Distance, a royally bred off-the-track mare tracing to Dash For Cash, Azure Te and Reb's Policy. The pair earned a bronze trophy at the 2012 Adequan Select World in barrel racing, as well as three more finalist placings during their competition career.
"I did some pretty good things with her," Renee says.
Her current partners are the mares Hi Risk, aka "Mojo," and Hollywoodfrostnshine, aka "Holly," whom she got in 2011 and 2019, respectively.
Mojo was bred by Myle Ratchford of Kingston, Arkansas, and is a granddaughter of famous race stallions Corona Cartel and On A High. Holly was bred by Cindy Brown of Elfrida, Arizona, and carries the blood of legends that include American Quarter Horse Hall of Fame stallion Hollywood Dun It.
As a nurse anesthetist, work is demanding for Renee, but she still finds time to ride her mares four to five times per week. She trains both equally, but typically only shows Holly due to the demands and cost of competing. She decided to take both horses to the 2020 World Show as a sign of support for the new western dressage class, which AQHA added this year.
It's a new class for Renee, too, but a perfect fit for her, as it provides a challenge to her and her horses to keep everyone legged up. While she has dabbled in it for years, she began to really focus on western dressage earlier this year.
"I was thinking, this is kind of along the lines of how I work my horses in general, so I took it up seriously this March and haven't looked back. It fits me pretty darn well," she says. "I like the basics that it puts on the horse. It's really all about the horse. … All about lightness and doing things the right way. I'm filling huge gigantic holes in my horsemanship because of western dressage. It goes back to how I work my horses. With barrel horses, you know you can only do so many barrel exercises and patterns. I like to do something with my horses that when I get on and ride them to keep them legged up, we have a purpose in mind. Western dressage for me fits that."
Remarkably, three years ago Mojo suffered a near-career-ending injury in a barrel race. But with the close assistance of veterinarians Dr. Logan Potts, Dr. Caleb Lund and Dr. Kelly Tischer, Renee got Mojo rehabbed and back to top form, which she demonstrated at the 2020 World Show.
"With them, this mare is back to running barrels better than ever and doing western dressage," Renee says. "It is truly a miracle of how she came back to get here.
"We learned a lot, and we had a ton of fun," she says of their trip to Oklahoma City.
Read the original article here: https://www.aqha.com/-/true-versatility?redirect=%2Fwestern-dressage
Share this post: